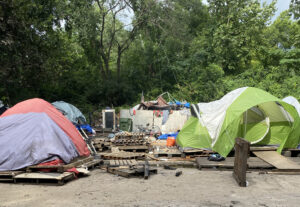 Service to others is at the heart of Trideum's culture. This commitment to serve was front and center as a large and enthusiastic group of Trideum Corporation employees, family, and friends volunteered to participate in The Trideum Foundation's 2023 Annual Summer Service Project, held on Friday, July 21st, and Saturday, July 22nd  in Huntsville, AL. This year's Summer Service project benefitted two organizations: Community of Hope and ENABLE Madison County.
The project started off Friday evening with Community of Hope.  Community of Hope is an organization working to change the lives of chronically homeless residents in the Huntsville community. Trideum Summer Service project participants distributed frozen popsicles and personal care items such as toiletries, socks and underwear, bottled water, small first-aid kits, and more to those less fortunate who reside in camps near the downtown area.
On Saturday Morning a second group of dedicated volunteers came together at the local ENABLE Madison Community Garden to contribute their time and effort. Laughter and camaraderie filled the air as they shared gardening tips and stories, forging new connections with each other and the earth. Their collective hard work and determination undoubtedly left a lasting positive impact on the community garden, creating a vibrant and thriving space for everyone to enjoy for seasons to come.
"There's a special feeling you get when a group of individuals can come together as a team to touch God's people in need," said Britt Sheffield, a participant in the Summer Service Project. "Moments like these remind us how fortunate we really are."
On Saturday, the Trideum team worked through the non-profit organization ENABLE Madison County to build an accessibility ramp, complete with handrails, for a physically challenged resident of Huntsville. The 12-person team of men and women built and installed the ramp in one day, providing the resident with much-needed mobility.
"For me it is wonderful to work on this type of service project where at the end of the day you can see your accomplishments and know that it will immediately be a significant quality of life improvement to the recipient, their family, others ministering to the family, and first responders if ever needed," said Ken LeSueur about the endeavor.
Trideum is profoundly grateful to everyone who donated their time, talent, and treasure to make this year's Summer Service Project a huge success. For further information regarding this event and future Trideum Foundation projects, please contact board members Mark Van Horn, David Minton, or Britt Sheffield.