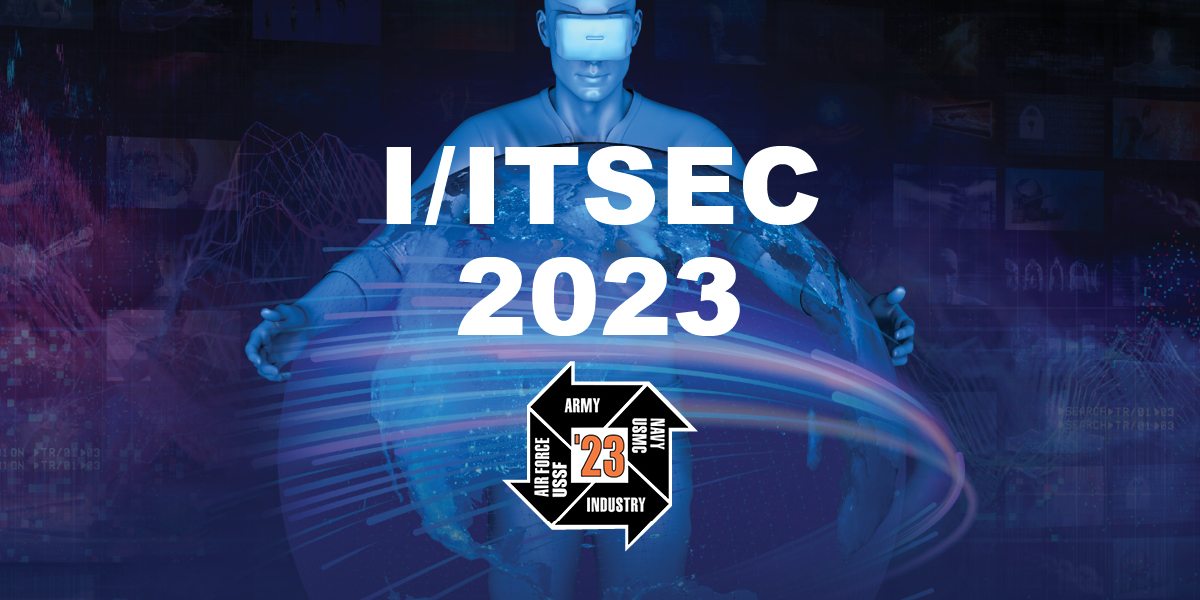 Visit Trideum in Booth 2612
Modernizing Today's Test and Training
Capabilities to Win Tomorrow's Fight
By leveraging new and emerging technologies, Trideum translates complex concepts into viable readiness and modernization solutions that train Warfighters how to plan, prepare, and be effective in combat operations.
Modernization is an ongoing, endless cycle, and is critical to keeping our Warfighters the most ready, multi-domain capable force in the world. A growing number of DoD customers depend on Trideum to provide a wide array of services, technologies, and customizable, implementation-ready solutions for Training & Training Development, Test & Evaluation, and Research, Development & Rapid Prototyping.
From Test & Evaluation, Cybersecurity, and Data Management & Science—to Modeling & Simulations—Trideum's solutions architects work together across disciplines to solve complex problems, implementing cutting-edge technology, or in some cases developing new technologies, for optimal outcomes.
First-Hand Perspective
Nearly half of all Trideum employees are military veterans, providing first-hand experience and perspective to the training, testing, and technology development they provide to DoD, military, and corporate customers. Within that group of veterans, many former Army FA-57s (Simulation Operations Officers) spend their post-military careers at Trideum, helping the company become the industry leader in the development, use, and modernization of Live-Virtual-Constructive-Gaming simulation and modeling technologies.
Delivering Every Facet of Training Support
Trideum's experience and unique expertise is perfectly aligned with I/ITSEC's charter and the goals of its members. Our objective is to improve readiness and performance in complex environments through all aspects of planning and training: from systems integration and technology modernization, to education, program development, and training execution and analysis.
Trideum builds training exercises for individual and collective instruction, leveraging our technical and operational experts in LVC-G training. Our experts in training and education design, develop, deliver, and manage all aspects of training, learning requirements, and training mission support.
Trideum's Participation in I/ITSEC is Both Deep and Wide
Trideum will bring at least 30 professionals to the conference to support numerous activities from staffing their own booth with subject matter experts to supporting sessions, customers, and conference activities and more. Trideum team members will engage in the following:
Present four new Papers, one of which is the Training Committee "Best Paper"
Give two Tutorials 
Participate in Focus and Signature Events
Chair or co-chair four Education Sessions
Provide Support Staff for AMSO, DEVCOM, and PEO STRI booths
Host Coffee and Pastries in their booth on Wednesday morning from 0930 to 1130.
Sponsor and provide support for the Cyber Pavilion
Provide subject matter experts and Live Technology Demonstrations in their booth (#2612).
Serve on six Conference Committees
Breakfast with Trideum
On Wednesday morning, 29 November, Trideum will host an exclusive event in the exhibit hall, serving coffee, pastries (fresh donuts!), and yogurt in booth #2612. This popular event is Trideum's way of saying thank you to their customers, partners, team members, and others at the conference. The event is open to all attendees, and there is no agenda—simply an opportunity to meet, talk, and share experiences and ideas.
Meet With Us at I/ITSEC
Our experts in Training & Training Development, Test & Evaluation, Research, Development and Rapid Prototyping, LVC-G, Cybersecurity, Data Management & Science, and other services/solutions are participating in I/ITSEC, and will be available to address your questions or any current challenges.
Trideum Participation at I/ITSEC 2023
Live Technology Demonstrations
Booth 2612 | During Exhibit Hours
---
Cyber Table Top Tool (CT3)
A deployable, server-client software application that enables streamlining of Mission-Based Cyber Risk Assessments (MBCRA) by automating the DoD's standard Cyber Table Top (CTT) method.
---
Data Acquisition System (DAS)
An advanced edge-processing capability with live streaming for testers in a small, lightweight, and rugged form. Designed to support the challenging demands of small autonomous systems.
---
SimChEC – Simulation Configuration and Environment Control
A simulation configuration tool that intuitively informs users in real-time of potential configuration issues prior to event start. Automatically collects and analyzes environment configuration data and compares with authenticated event design data.
---
Aircraft Survivability Equipment (ASE) Simulation
An LVC-based test environment for ASE Decision Aid System (DAS).  Demonstrates the interface between an LVC simulation environment and Hardware in the Loop (HWIL). Enables the user to execute tests that cannot be performed live, perform repeatable tests, and run multiple test cases.
---
Interactive Multimedia Instruction (IMI)
Distance Learning (DL) courseware that combines multimedia formats (text, video, audio, images) with activities at varying levels of learning activity (Level 0 – Level 4) designed to help the learner apply and receive feedback on their understanding.
---
Contextualizing Cyberspace Electromagnetic Activities (CEMA) in Multi-Domain Operations (MDO) Through Playbooks
Selected Training Sub-Committee "Best Paper"
Tuesday, 28 November | 1600 | W300-Theatre
Modern warfare mandates that adversaries have the opportunity to engage one another in Multi-Domain Operations (MDO) that span land, maritime, air, space, and cyberspace. To do so effectively, warfighters must not only integrate an array of capabilities, but must also synchronize cyberspace operations (CO) and electronic warfare (EW) across all domains and lines of operations to gain information advantage.
As an initial step to addressing this problem, we developed a CEMA MDO Playbook for Modeling & Simulation that demonstrates how cross-domain capabilities can introduce dilemmas for the enemy while enabling friendly forces to conduct operations in degraded, disrupted, and/or denied operational environments.
---
A Flight-Representative Operational Cyber Test Environment
Tuesday, 28 November | 1400 | W307A
An important aspect of modern cyber testing & evaluation is the immersion of the system under test (SUT) into an operationally relevant environment. The U.S. Army Redstone Test Center (RTC) has developed a flight-representative environment to immerse Army systems into this type of operationally relevant cyber test environment.
This paper describes several of the issues and challenges associated with developing this cyber test environment and how these challenges were overcome.
---
Enabling Multi-Domain Operations Through Simulation Services
Wednesday, 29 November | 0830 | W307A
The US Army is exploring how the concept of Modeling and Simulation (M&S) as a Service (MSaaS) can provide the ability to enable more flexible simulation environments that can be deployed and executed via an on-demand methodology. This paper discusses insights gained through collaborations within the US Army, US Air Force (USAF), and with the North Atlantic Treaty Organization (NATO) M&S Group (NMSG) – 195 "MSaaS Phase 3".
---
Extending PNPSC Player Strategies with Continuous Firing Rates
Wednesday, 29 November | 1530 | W307A
Developing a deeper understanding of cyber attacks can facilitate the creation of more effective strategies to mitigate them. Petri Nets with Players, Strategies, and Costs (PNPSC) is an extension of Petri nets specifically designed to model cyberattacks. In this paper, the training performance and effectiveness of developed strategies are compared to previous research using Monte Carlo reinforcement learning.
Tutorials
A Process for Distributed LVC Event Integration and Execution
Monday, 27 November | 1245-1415 | Room W305AB
This tutorial is beneficial for anyone involved in the planning, integration, and execution of distributed LVC events. The tutorial will provide an overview of the complete process, but selected steps are described in more detail. The goal of the process is to produce a verified distributed LVC environment to conduct an event.  While the process described in this tutorial was developed to support distributed LVC Test & Evaluation, it also applies to research & development, training, and experimentation.
---
Live, Virtual, And Constructive (LVC) Interoperability 101
Monday, 27 November |  1030-1200 | W305AB
The purpose of this tutorial is to provide managers the necessary insight needed to support intelligent decision making when employing LVC to solve their needs. The tutorial will discuss the various solutions and domains of the technology and how it can potentially support their LVC needs. The tutorial provides a relevant use case as the mechanism to explain the concepts and the solutions required to achieve success. The tutorial will provide management-level insight into interoperability solutions and standards like Distributed Interactive Simulation (DIS), High Level Architecture (HLA), and the Test and Training Enabling Architecture (TENA) product line.
---
Focus Event
Certified Modeling and Simulation Professional 3.0
Monday, 27 November | 1400 – 1 530 | ROOM 307A
CMSP is the only encompassing M&S professional certification in the U.S. It provides differentiation, community awareness, specialized networks, and membership benefits. Its reinvention began in 2019 and was unveiled in 2021 with CMSP 3.0. This version streamlines the processes, updates the examination, employs a Learning Management System, and is creating a vibrant community of practice.
---
Signature Event
The Joint M&S Data Initiative
Wednesday, 29 November | 0830-1000 | W304EF
The demand signal for rapid decision-making support has increased. Thus, access to authoritative sim-ready data supporting an agile decision cycle is a critical requirement. Collecting and reformatting force structure, threat representation, systems performance data, and geospatial data for scenario development is manpower and time intensive. This led to a collaboration between the Army (AMSO) and Joint Staff to expand the scope of ongoing data efforts to drive the ability to access, retrieve, use, and reuse sim-ready data. The Joint M&S Data Initiative supports the National Defense Strategy by providing the overarching vision, focus, guiding principles, essential capabilities, and goals necessary to transform not only the Army's M&S Enterprise but sync with Joint Services into a common data framework.
NTSA I/ITSEC Cyber Pavilion
Trideum will be supporting the I/ITSEC Cyber Pavilion on the Exhibit Floor in booth #2870.
The Cyber Pavilion is the conference home for all Government, industry, academia, and international partners engaged in cyber domain activities. This is the place to meet with others working to represent non-kinetic effects in their models & simulations, particularly as those pertain to information operations or information warfare. The Cyber Pavilion features panel events and presentations spanning policy, operations, capability acquisition, and workforce development topics. The events highlight needs of the Government, capabilities of industry, efforts and research of academia, and collaboration with international partners. It includes a panel on Information Warfare and an associated I/ITSEC Special Event on Information Warfare Challenge Perspectives outside of the Exhibit Hall.
Direct Support to Customers and Attendees
Trideum will have personnel in and supporting the following places on the exhibit floor:
---
Army Modeling and Simulation Office (AMSO) in booth #3249
---
AFC, DEVCOM, Command, Control, Communications, Computers, Cyber, Intelligence, Surveillance and Reconnaissance (CI5SR) Center, Research and Technology Integration Directorate, Modeling and Simulation Division, Virtual Prototyping in booth #3449.
---
PEO STRI, the Integrated Visual Augmentation System (IVAS), and the Squad Immersive Virtual Trainer (SiVT) in booth #3235.
---
Trideum team members will be supporting the I/ITSEC Cyber Pavilion on the Exhibit Floor in booth #2870.